Become a patron and receive access to my exclusive healing music.
You need a subscription to access this page.
This page can only be accessed by subscribers to the Stress Reliever Community and higher tiers. Subscribe now to get access.
WELCOME TO MORE PEACEFUL DAYS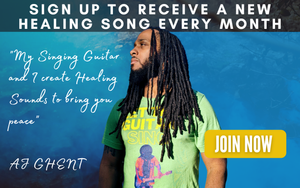 I receive so many beautiful testimonies on how my music is helping you feel happier, experience more peace, heal from past trauma, sleep better at night, beat depression, and mend broken relationships. I've been working on more healing music and created this subscription so that you can receive a new healing sound/song every month.
I'm really excited by the opportunity to deepen the connection with all my supporters. Being part of your story as you are healed and set free from past hurt, and trauma is a blessing to me. I'm looking forward to putting energy into creating more healing sounds to set the mood for your day, help you accomplish your tasks, and ease your mind.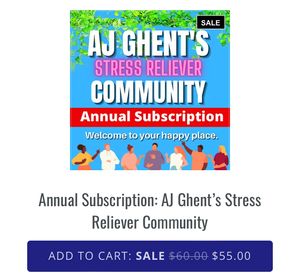 What's Included In The Subscription

 
Recurring payment. Cancel anytime. AJ may update perks.
Here's a list of everything included when you subscribe for Stress-Reliever
A new exclusive healing song that you can download or stream every month (mp3 and wav formats) (The full songs will not be released to the public)

Video commentary on how the song was inspired 

Encouraging phone wallpaper downloads  

10% off Singing Guitar Vibes Apparel
How I've Been Able To Help So Far

 
I've received thousands of messages on how my music is helping in the following ways:
Conquering life
Relieving tension in the body
Providing stress relief
Calming anxiety 
Mending broken hearts
Helping mend relationships 
Alleviating depression 
Providing a soul lift and mood boost 
Energize
Revitalize 
Providing more peaceful atmospheres 
Promoting peace within
Promoting clarity 
Promoting focus
Improving sleep
Thank you so much for YOUR support. I'm beyond blessed to be able to help make a difference in the lives of so many!
All the materials, emails, and videos are for your EXCLUSIVE USE ONLY and cannot be copied, forwarded, or uploaded to ANY social media sites.
This content is for your information and personal, non-commercial use ONLY, and may not be, reproduced, distributed, transmitted, broadcast, displayed, sold, licensed, or otherwise exploited for any purposes whatsoever without the express prior written consent from AJ Ghent.
Disclaimer: I am not a doctor and cannot give out medical advice. Energy healing should be used as a complement to other therapies and not as a replacement for regular medical care. Energy Healing is not meant to replace conventional medicine, but rather to complement and enhance it. Energy Healing should only be used with the understanding that it is not an independent therapy, but one that is a part of a holistic healing approach. Results of energy healing will vary from person to person.