AJ Ghent [J-ent] + His Singing Guitar
Shout From The Church To The Streets 
Fusing blues, funk, rock, and pop into a genre he likes to call
THE NEO BLUES
Welcome To The World Of Ghent [j-ent] 
AJ Ghent [j-ent] and His Singing Guitar construct a musical sound that can be heard howling from the church to the streets to the clubs. His style can be defined as fresh, nostalgic, electrifying and roots rock, -- fusing blues, funk, rock, and pop, mashing it into a genre he likes to call, NEO BLUES. 
The energy and passion which resonates from AJ's music, from the strum of the guitar and the conviction of the vocals, the pounding rhythm of the drums, to the thought-provoking lyrics, is sure to be felt by any crowd.  AJ aims to create an unforgettable experience for music lovers, with the hopes of taking them to a musical paradise.  A little hip-shaking, finger-snapping, head nodding is all you need for this tuneful travel excursion. 
He calls James Brown, Prince, and his family heritage as influences. He can be heard picking, sliding and strumming all over those strings, whether it's one of his custom-built 6 or 8-string lap steel hybrids or his acoustic resonator. 
What is different from most lap steel players is AJ performs standing upright like a guitar player, using his over handed technique to play slide, so that he can dance, and have more mobility during his live shows.  AJ was born to fly! 
AJ Ghent [J-ent] is a musician hailing from Fort Pierce, Florida and growing up was all about the music. Music has truly been running through his family for generations; such as his great uncle Willie Eason, the creator of the "Sacred Steel Tradition," and his grandfather Henry Nelson, the founder of the "Sacred Steel" rhythmic guitar style. This style is played by many names today, such as Robert Randolph, The Campbell Brothers, and more. 
"Forged in the congregational hotbox of the Southern Pentecostal House of God church, sacred steel music is an electrified rhythm, punctuated by sharp blasts of soaring solos, played on amplified lap steel guitar. It's an open tuning, on an eight-stringed instrument, and sometimes it can sound like the roaring, whooping and hollering voice of God himself has joined the gospel fervor." (reference Connect Savannah, 2013) 
So around 12 years old, the young AJ got a hold of something special; "it was one of the first sacred steel CDs, with my father, my grandfather and my great uncle on there. At that point, I became interested in the instrument, and I would listen to that thing until I broke it." (reference: Connect Savannah August 2013) 
After High School, AJ traveled down to the West Palm Beach, FL area with his sister, Tiffany Ghent to explore the city's range of genres, from hip-hop to R&B, while playing in Top 40 music bands. However, AJ was in search of something more, a style that was uniquely his own.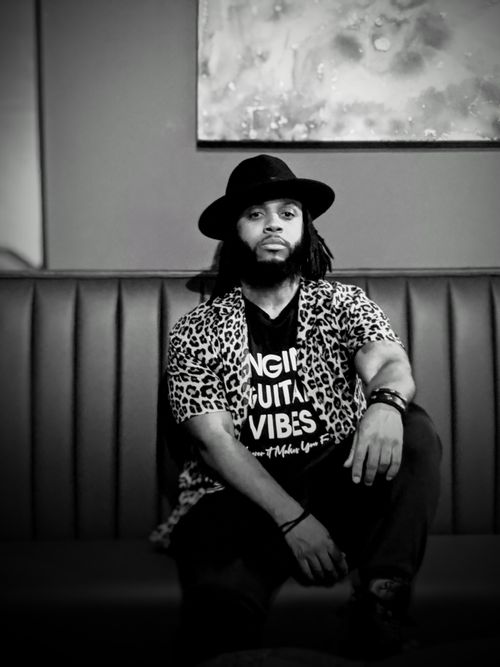 Fresh with his marriage to his bride MarLa, a singer herself, he set his eyes on Atlanta, GA. When he arrived in Atlanta, AJ took on sideman jobs, studio session work. Not long after, AJ met the legendary Colonel Bruce Hampton who began to mentor him; teaching him what mattered the most; "time – tone and space" for all his music and life journeys. AJ was invited to play in Hampton's band, Pharaoh's Kitchen, which he did for about a year -- and like true Colonel Bruce style, the elder statesman always reminded AJ to be 'true to himself.'  
He has had a colorful career thus far playing and opening for such legendary acts like Zac Brown, The Allman Brothers Band, Derek Trucks, Robert Cray, and Gov't Mule. He can be heard on various recordings with Zac Brown, Luther Dickinson, and featured on Zac Brown's 2013 Grohl Sessions Vol. 1 alongside Dave Grohl (Foo Fighters). 
AJ's band has had various formations, from a trio to a 6 piece band with horns, playing small clubs to mid-large sized festivals and arenas; dazzling audiences everywhere. In 2015, he released a DVD/CD called LIVE AT TERMINAL WEST – recorded and filmed at the Terminal West venue in the old King Plow factory in Atlanta, GA. This was well-received by fans and critics praising the fearless leader! "The 11-song album is a relentless, high-energy romp through gospel, soul, and funk-infused landscapes, with a couple of cool-down moments just so the audience can catch their collective breath." (Relix, 2015)   
AJ Ghent [J-ent] knows where his talent comes from and isn't afraid to explore other sounds. His first studio album, titled The Neo Blues Project is something different: A musical fusion form that takes art and skill to master, something that AJ Ghent [J-ent] has spent his whole life perfecting. The album debuted #7 on the Billboard Blues Charts on its release week in March 2018.   
AJ was handpicked as an ambassador for the  Southern Region of the US music and tourism divisions, performing at events in Canada and the UK. He is also featured on the Starbucks Nation of US campaign, alongside John Legend, Allen Stone, Imagine Dragons and more. His uplifting anthem "Power", was chosen for the official Spotify Playlist for the hit HBO series, Game of Thrones. The playlist revealed through the songs selected, how the highly anticipated last season would end.    
Continuing in his family tradition, AJ can literally make his guitar sound like a voice singing a melody. AJ and his Singing Guitar have reached millions worldwide through viral videos, and continue taking music lovers on a true journey at live shows.   
In 2019, Ghent created his health and wellness initiative, Singing Guitar Vibes® to promote longer-lasting moments of the feeling fans experience, when listening to live music. These positive vibrations help listeners overcome the daily struggles that life may bring. AJ has received thousands of testimonies from fans worldwide on how his music is helping them conquer life!    
AJ's latest release in May 2019- AJ Ghent Presents: Let the Guitar Sing (Live at American Sushi) is a live experience of AJ, his Singing Guitar and his band. The songs are filled with passion and musical healing. This album has been met with rave reviews and critical acclaim.